Hear Ye - Hear Ye - Read All About It
Good morning, my friends. Just a heads up about a couple of blog hops that I am going to be participating in during the next couple of weeks. Please pass the word around to your crafting friends and feel free to post the buttons on your blog to help us advertise.
The first blog hop I am in is "YOU SAY IT'S YOUR BIRTHDAY BLOG HOP" hosted by my friend, Erika from Cricut Love to honour her daughter's birthday as Ashley has been having a hard time lately. The theme is Beatles songs. It is February 7th and should be a riot. Come join us!!!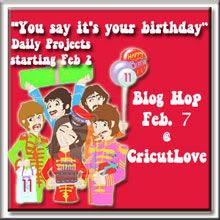 The second hop is "PAPER DOLL DRESS UP BLOG HOP" hosted by Sandra and Janis from
Flaunt it Fridays and will feature members of our amazing design team. It happens February 11th. It uses the Paper Doll Dress Up cartridge and we will have some wonderful projects and fun stuff to share.
As with any blog hops, I am sure there will be blog candy along the way and possibly grand prizes from sponsors as well. So make note of these and please join me and the other talented ladies on these hops.
Blessings, Jenny